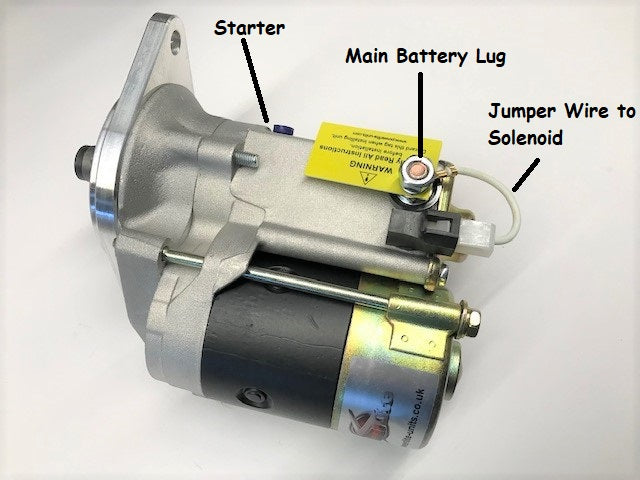 Tips on installing High Torque Starters, MG T-Types
The High Torque Reduction Gear Starters are made with a built in solenoid, unlike the orignal starters, which used a separate switch to send power to the inertia type starter. These new high torque starters are a direct bolt in replacement. 
For the MG TD and TF, using the starter pull cable and the bulkhead mounted starter switch, there is no modifications needed. The main lug on the starter is jumpered to the solenoid switch, so pulling the starter cable sends power thru the starter switch to the main battery connection lug on the new starter, and consequently to the solenoid, activating the starter. See below
This same setup could be used on an MG TC if you install a TD/TF  starter switch on the TC bulkhead. The next photo shows the wiring using a push button on the TC.
This photo shows the installation wiring for using a push button on the dash of the TC, as the TC does not normally use the starter switch of the TD, TF, rather it uses a switch which is an integral part of the starter. The jumper between the main battery lug and the solenoid terminal is removed. Power to the solenoid is then provide by the push button, triggering the solenoid and the starter operation. The push button on the dash supplies 12v from a suitably fused source to trigger the solenoid.