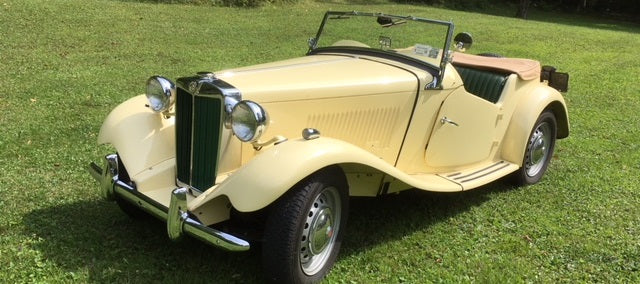 May MG of the Month!
1953 MG TD of Jake Schreiber of Allegany NY
Here is a bit of history from Jake about his MG.
I purchased the 1953 MG-TD, which we have named Buttercup on Bring a Trailer in February of 2017. It was the actress Susan Saint James' 16th birthday present. Not long after that, her brother David Miller acquired the car and he was its caretaker for the next 55 years. David ended up being the President of Testors Corporation (think of scale model kits, glues and paints). He had the car restored to original in Beverly Hills in 1988. While he was President of Testors, most of the time the car sat in the Testors garage covered up. After David retired, the car sat in his garage, covered up with limited use. When it was used, it saw service in Homecoming parades or was used for family joy rides. When David's family decided to pass the car on to the next lucky owner, they did so via Bring a Trailer.
When my lovely bride and I were dating, we had borrowed a friend's T series MG for a very cold but memorable winter ride. I noticed this car on Bring a Trailer and showed the listing to my wife. After we reminisced about our youthful cold ride from many years ago, she suggested that I bid on it. She did not need to tell me twice. After the dust had settled at the end of the auction, we were the very fortunate winners!!
After retrieving the car and having an opportunity to look it over closely, we found that it was actually nicer than we had anticipated. Still being in excellent shape from David's previous restoration with its limited use, it only needed a few maintenance items to make it roadworthy again.
We refurbished the complete braking system with new wheel cylinders, master cylinder, brake shoes, and lines. We replaced the rear axle seals and the 20 plus year old tires. Neither the tachometer nor the speedometer worked. With the installation of new tachometer and speedometer cables everything was fine again. We had the carburetors re-bushed and rebuilt. There were also a few electrical gremlins that needed to be chased away.
Since then, picnic baskets, fancy scarves, secure hats, children and grandchildren have all been piled into the car for joyrides. And joyrides they have been, as you CANNOT get into the car without a smile on your face!
Thanks to Jake for sharing this interesting story and this beautiful MG!