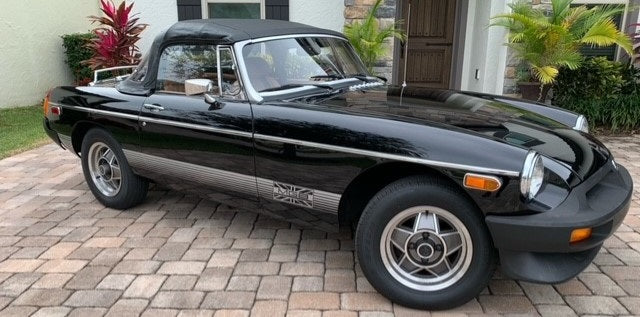 March MG of the Month!
1980 MGB Limited Edition,  James LeSage of Florida
Normally with the top down in Orlando, Florida, mostly for runs on a Sunday afternoon to the local brew pub. I got this one in my life a few years ago and got her nicely tidied up. This is my second 1980; the first one I bought new when I graduated university but parted with when I started to have a family. I bought a 1980 MGB in 1990 and kept it a few years. My dad backed into it in the driveway, a parking lot ding took out a tail light, the exhaust manifold cracked and melted the automatic choke fitting. I got tired of it not being perfect and sold it shortly after I got married. I always missed it though and a few years ago I went to an auto auction and came upon this beautiful Limited Edition with 26k on it. It has new seats, carpet, top and it may have been painted. The lights needed attention, new seat belts, fancy shift knob, hand brake cable and a radio was necessary. Thanks Abington for having what I needed. Now she's nearly perfect and runs great.
The MGB Limited Edition was produced from March 1979 through August 1980 as a way to increase sales of the aging MGB.  Apparently it worked as over 6600 MGB LE models were sold in the North American market. All of the LE models were black, with either black or beige trim.  Exterior mods included a special Limited Edition striping along the lower part of the sides, a hard rubber air dam under the front bumper, and cast alloy wheels. The LE stripes and air dam were sourced in USA. Interestingly these air dams and stripe packages were imported back to the UK for use on the final UK version Limited Editions. These final UK versions were not sold in North America, and were produced in roadster and GT form, in either Pewter Metallic or Bronze Metallic exterior finish.