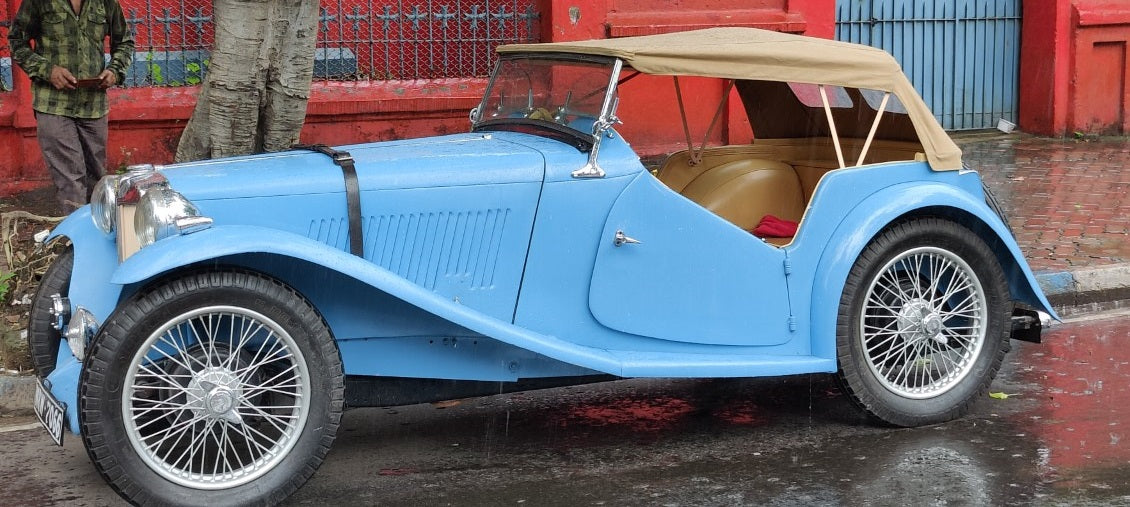 August MG of the Month!
MG TC  of Rupak Ghosh, Calcutta, India
This month's MG of the Month is an MG TC restored and owned by Rupak Ghosh of Calcutta, India. I have devoted more space than usual to this MG, as its story is quite remarkable. This is an MG that was found in absolutely derelict condition in India and bought as a restoration project by someone who had been searching for many years for one, in a country into which very few TC were ever imported. Having found a TC, he then began a relationship with us at Abingdon Spares to find the many, many parts and pieces needed for his project. This was Rupak's pandemic project, a way to keep busy at home in a country that has been hit very hard by the Covid 19 pandemic. Over the course of the last year, Rupak became not only a good customer of ours, but a good friend as well. We sent dozens of boxes to him over the course of a year, (it is a trip of nearly 8,000 miles from Connecticut to India!) helping him get his dream car back on the road. As the photos show, Rupak and his helpers have done a remarkable job with the TC, and we are very pleased to have been a part of this extraordinary restoration. The TC is now on the road, he even sent us a video of it driving down his street. Keep in mind this restoration project took approximately one year! I'll let Rupak tell his story, here it is in his words.
"I have always been fascinated with the TC as to me it really embodies everything that a classic car should have. Prewar design, some punch in the engine , exposed to the elements , eye candy colors and the sheer joy of being involved with the car while driving it. It is very rare to find a TC in India and I was looking for one since 2004. Finally in 2017 I found this one in Rajasthan, India in a Haweli (Manor/Mansion) of sorts . I got the news that it is in a deplorable condition with it being bastardized beyond recognition. My people went and pulled it out of storage, (lying there for 30 years) with the original motor gearbox, propellor shaft, dashboard, all gauges and windscreen missing. Hardly anything apart from the chassis was original and useable. The block which was missing, the head was kept aside and a Fiat 1100 engine and gear box was thrown in to make it economical. So, I trucked it down to Calcutta and stored it till July 2020 when after the pandemic I started working on it. I am so grateful to Abingdon Spares and in particular Martin, for the spare parts so that I could get this far. Sharing some before and after pictures with you. Mind you I did all this in my own garage without any professional help."
Thank you Rupak for sharing your story and photos with us!