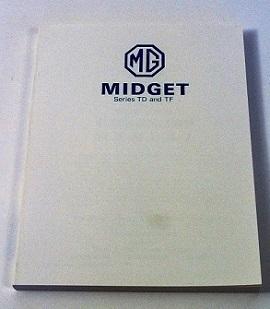 Workshop Manual, TD/TF
57-001A
The MG Midget Series TD and TF Workshop Manual
This is an excellent reprint of the original British Motor Corporation, MG Car Division, manual. This provides much more detail than the Owner's Manual, over 125 pages in large 8 1/2 x 11 format, covering everything from routine maintenance through complete overhaul and rebuilding of engine, gearbox and other components of the TD and TF cars. Hundreds of factory illustrations, sectional drawings, original specifications and troubleshooting guides in each section provide excellent information and guidance allowing owners to maintain their cars. Pages of General Information, detail the specifications, settings and tolerances of the car's components, and also various capacities and torque settings.
Whether you are restoring a TD or TF or just need a more detailed guide to routine maintenance, this is an excellent reference book for the workshop.