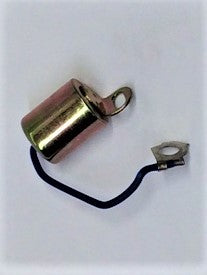 MGB CONDENSER, Premium Quality
30-405
This part resolves the ongoing problems the market has had with Lucas Condensers
BVU Superior Blue improved manufacturing techniques include:
1- Extended coil support under epoxy sealing cap.
2- 4 plus meters insulated high grade capacitor film and foil, oil
impregnated for improved heat transfer and cooling.
3- High current pressure contact spring and support plates.
4- All wires and leads soldered, not pinched!
5- Original correct terminal ends on 423871 and 54413006.
AKA 154-100