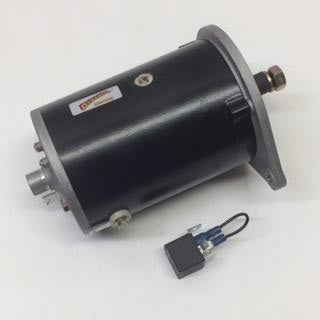 Dynamator - Vintage look Alternator for T-Types!
The DYNAMATOR is an Authentic looking Dynamo that in fact is a high output 45Amp Alternator, giving a considerable increase on performance, with the added advantage of being light weight, weighing in at less than 8 lbs, as compared to the original dynamo's weight of nearly 15 lbs.! The Dynamator comes with Tachometer Drive for the T-Type application.
If you are thinking of converting your MG T-Type to an Alternator you can use the Dynamator and retain a totally original look. Easy to fit as it uses original Dynamo mountings. The Dynamator also comes with its own built in regulator for easy installation. .Available in either Positive or Negative Ground, in stock at Abingdon Spares! Click here for more information
 Positive Ground Dynamators will need to have the ignition warning light wired thru the supplied relay. (Additional wiring directions and diagram included). This is a very well done conversion from generator to alternator, and each Dynamator comes with a wiring diagram, showing how it is fitted into the original wiring harness. (Note:Dynamator recommends that the wire used as main feed from the Dynamator to Battery should be rated at  at least 45 amps)
No returns on this item, please do not order if you are not comfortable modifying the wiring of your T-Type car. Please be sure of your car's polarity, these are alternators and are purchased as either Positive or Negative ground devices, their polarity cannot be reversed.
You can read other users comments  on the mgexperience forum at this link: CLICK HERE
And comments from owners who have already installed one on their T-Type. CLICK HERE
Shipped without fan or pulley, you must reuse the one from yours. Reproduction pulley is available part # 35-060C, part # 35-059 is key for pulley, reproduction fan is part # 35-060B