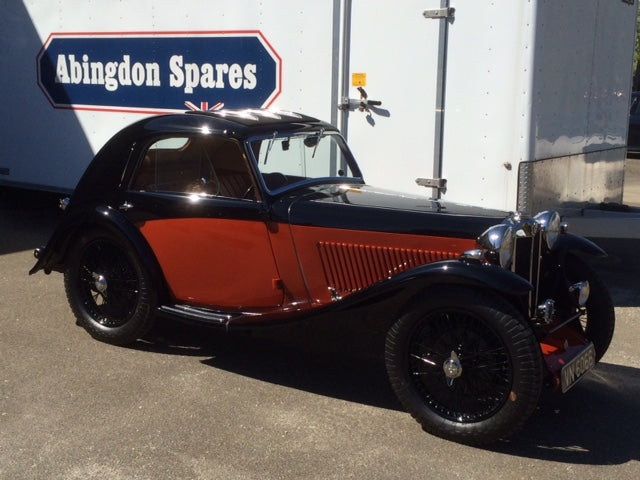 Wayne Carini at Abingdon Spares!
Wayne Carini, the host of the TV show "Chasing Classic Cars", joined us here at Abingdon Spares for Cars & Coffee on May 11th! Wayne brought down his beautiful 1934 MG PA Airline Coupe, one of the best looking of the prewar MGs indeed. This car is recently "re-restored" and normally only seen at prestigious concours events, so it was a real treat for us to see it locally.  The weather cooperated with a beautiful sunny day, a rarity this spring, and nearly 80 British Car owners, either with or without their LBCs, had a great time visiting with Wayne and his MG. Wayne made his way around our parking lot, admiring the MGs gathered here and talking with their owners. It was a very enjoyable, low key kind of gathering, and a good way to start off the driving season here in southern New England. 
The Airline Coupe body style was built on a number of MG chassis in the 1930s, from PA through TA, the PA being the most common. In an unusual coincidence, there were actually 3 other guests here on Saturday that own MG Airline Coupes, two that are restorations in progress, and one that has been restored. Certainly for a car type that there were approximately 50 ever made, and none sold originally in the US, to have 4 of their owners at one event is pretty amazing.
Abingdon Spares did have a small part in the restoration of this particular Airline, we did provide the rear bearings an seals, as well as the Blockley Tires, of course! All of us at Abingdon Spares are extremely grateful to Wayne Carini for taking the time out of his busy schedule to spend some time with us this weekend. It truly was a great favor to us and a great get together for our customers. We look forward to possibly seeing Wayne at another of our Cars & Coffees! Here are some photos of the day.