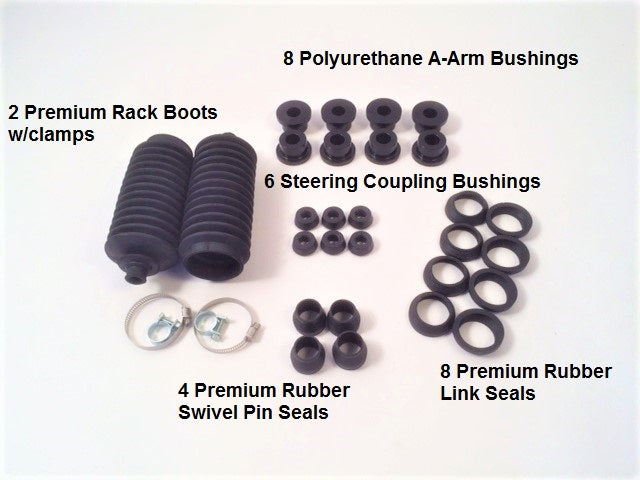 New Suspension Rubber Kits
Abingdon Spares now offers two Premium Rubber Kits, Front Suspension and Rear Suspension Kits.
These kits contain all the rubber seals and bushings needed to renew the suspension components in a single kit. We divided the kits into front and rear kits, that way you can get a better price without having to order components that you do not need at this stage of your project.

These kits include superior quality Polyurethane Suspension Bushings and also include our Premium Nitrile Rubber Link Seals and Swivel Pin Seals. Kits of lesser quality usually contain ordinary rubber bushings and seals, these Polyurethane and Nitrile components in our kits will outlast ordinary bushings and seals many times over. It is definitely worth the time and effort to replace these components on your TD or TF, so why do all that work to install ordinary rubber bushings. Polyurethane bushings are now the standard for replacement suspension components, cheaper is not better!
Rear Suspension Premium Rubber Kit #43-115
Front Suspension Premium Rubber Kit #43-110