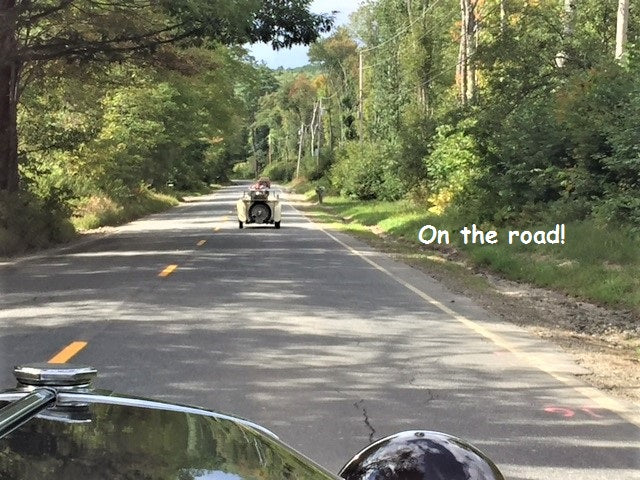 New England British Reliability Run
The Abingdon Spares "Team TD" recently completed the Inaugural New England British Reliability Run, NEBRR, over the weekend of October 8, 9, and 10. We completed over 450 trouble free miles up and down the White Mountains of New Hampshire and over into Maine. Much of the run went thru the White Mountain National Forest, up and down the Kancamagus Highway, the highest roadway in the northeast, peaking at 2900 feet!

The real purpose of the NEBRR was to fundraise for the designated charity, the Boston Children's Hospital. As of Sunday the total fundraising for the run was well over $13,000.00, and with a few more contributions still to be counted, the total raised by all the teams will probably top $14,000.00. Many thanks to our friends and customers for their contributions to this most worthy cause.

A total of 23 teams of British Car enthusiasts left from the Historic Motorsports Shop in Candia, NH on Friday morning, and the same 23 teams retuned to the shop, under their own power, on Sunday afternoon. MG was the most numerous marque of the run, 2 MGBs, 3 TDs, 2 TCs and an MG 1100. (Just in passing….the only cars that had any issues, minor that they were, were Jaguar and Triumph, but of course they could not buy their parts from Abingdon Spares, so….). Reliability was never doubted along the way, these cars, many of them 60 to 70 years old, proved they can definitely go the distance.

Along the way, Don and Polly, in the red TC, celebrated their 56th wedding anniversary, what a way to celebrate!

This really was a great trip, with a great bunch of British Car people. It was very well planned out by Rally Masters Bob and Kim Dougherty, all the credit goes to them for lots of hard work, careful planning and getting all the details right. All the directions were very clear in the route books, and the route and scenery were outstanding. Also, the early fall weather could not have been better, just a brief afternoon shower on Friday and Saturday, (with rainbows!), but blue skies the rest of the weekend. There are already plans to do this run next year, I would recommend it to anyone with a British Car and a sense of adventure.