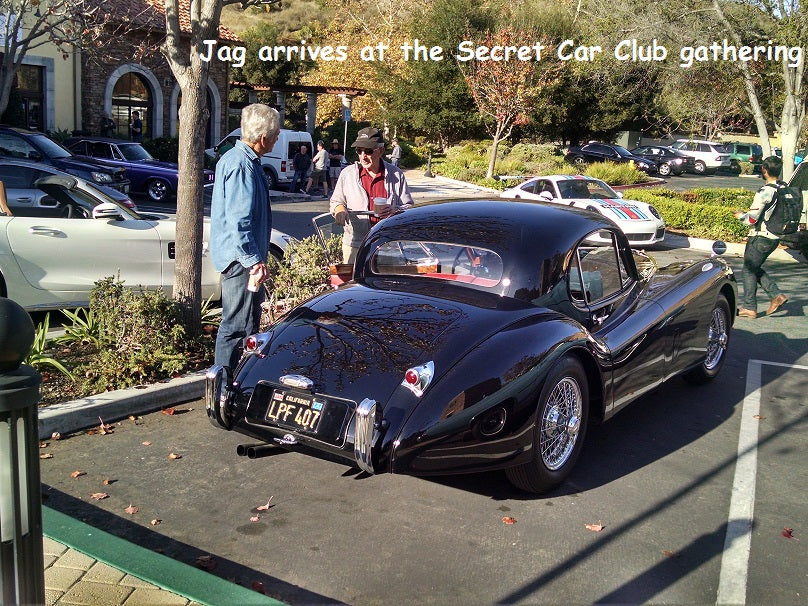 "Go west young man", or what I did on my winter vacation!
While the classic car driving season has come to an end in the North Eastern and Midwestern USA, our roving reporter provides a glimpse into the land of endless outdoor activity: SoCal (Southern California). Hopefully this story from a car culture capital of the USA provides inspiration for winter projects and motivation to make plans to hit the road with your classic early this year.

As a New Englander, I've heard tales of a land where cars don't rust and the weather is always convertible friendly. Hard to believe these stories when you're holding a snow shovel. I decided some firsthand investigative reporting was necessary to confirm the truth. What better time than January to find out. Really, I'm doing this purely out of a desire to serve you all.
Every Saturday of the year (yes, even in January), the upscale town of Rancho Santa Fe in San Diego County California plays host to not one, but two "Cars & Coffee" events. These are informal gatherings where enthusiasts bring whatever they like, park on the street, and chat over coffee. There are no classes, no assigned parking, no admission charges, no judging or people's choice, just pure unadulterated SoCal car culture. Like most things in this neck of the woods, it's pretty laid back.

My uncle, a SoCal resident, and avid JCNA (Jaguar Club of North America) member, graciously provided transportation to both events. That is, if blasting up the Pacific coast in a 1953 XK120 FHC can be considered mere transportation. The windows rolled down, the smell of the sea, the riotous exhaust of the 3.4 liter Jag and the sun glistening on the long black hood. Is this real? Two days earlier, I was so cold, I couldn't feel my toes! I pinched myself to see if I was dreaming.
We ran along the coast for about 20 minutes with breathtaking vistas of that other ocean. You know, the one with waves and surfers. Then we turned inland and headed through eucalyptus groves and into the foothills to our destination another 10 minutes away. Which is more fun? Getting to the car event or being at the car event? I'll leave it to you to decide.

The first stop was the gathering of the Secret Car Club. The venue was a coffee shop with a circular parking lot. There were between 20-30 cars at this venue. Quality over quantity. Notable models present were a (real) 427 Cobra, a Peugeot 404 coupe (one of 2 in the USA), and '70 E-type FHC. And all the convertibles had their tops down! In January! The legend is true!

After some morning refreshment and meeting some new car friends, we headed to downtown Rancho Santa Fe for the "Rancho Santa Fe Cars and Coffee." https://www.facebook.com/rsfcandc/. I'd estimate attendance to be near 100 cars with about six blocks of the town lined with modern exotics and vintage machines. Exotics were particularly well represented, with a pasel of Porsches, multiple McLarens, lots of Lamborghinis, and more 458 Italias than I could count.
Surprisingly missing were any Maseratis. There were also 5 Nissan GT-Rs parked in a row. Despite this abundance of newer cars, people in attendance demonstrated great enthusiasm for the XK120. Respect for the elders! The Jag was the wild high performance super car of 1948-1953. Enthusiasts gathered with appreciation of the engineering and aesthetics of all eras, and a genuine enjoyment of all things automotive.

So, after extensive research, I have determined that the tales of the car lovers' utopia that is Southern California are true!

-Matt