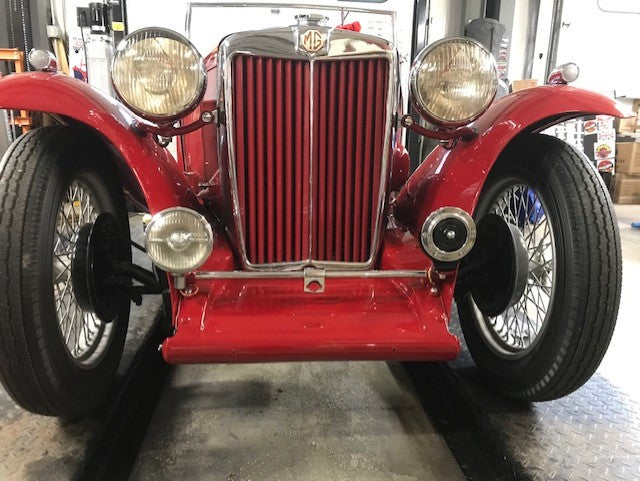 Chasing Classic Cars comes to Abingdon Spares!
Abingdon Spares and our project MG TC was chosen to be featured on Wayne Carini's television show, Chasing Classic Cars. This was a very exciting day for us here at Abingdon Spares as Wayne and the film production crew arrived early in the morning for a day of filming.  A bit of background, we have worked with Wayne for a few years now, supplying MG parts and Blockley Tyres for some of his project cars. Last winter he asked us if we had any interest in an MG TC he had acquired several years back and had never had the time to finish. The car had been partially restored by the previous owner before his passing, but was pretty much disassembled and not running when we bought it from Wayne. We have been working on it as time allows this spring, working our way through bit by bit. There is more about this car on our Shop Talk blog. This episode was to be the "after" part of this TC's story. When we bought the car from Wayne, we did not know that the film production crew had already filmed the day that he had collected this car from the previous owner's family, apparently assuming the car would be restored and sold, which would have been the conclusion to the episode. Fast forward a few years and the car is still unfinished, still mostly in boxes. So, after purchasing the TC from Wayne, we slowly began getting the car to a running and driving condition. We did not have as much time as we wanted to work on it, but we were making progress. Wayne had mentioned to me that he might be interested in filming the car and our shop once the car was further along, but did not give any definite plan.(I still did not know the beginning part of the story, I only learned that the day before the film crew was to arrive.) Ok, we thought, we will continue to work on it and maybe that might happen, maybe not. The car was still a very good car and very interesting to work on.
Six days before they planned to film, I got an unexpected call from Wayne, asking "can you have the car ready by Friday?" This was Tuesday…car had not even been driven at this point!  My answer was, "how is Monday or Tuesday?" We settled on Tuesday morning, and the next 5 days were quite busy here as you can imagine. Lots of major and minor adjustments to make to be sure the car would be ready for filming! By Sunday afternoon the car was pretty much ready to go, we had time on Monday to work on the new interior install (still not complete, black spray paint looks good at 20 feet!). The car is by no means finished, so many more details to be finished and things to be changed or corrected we know, but it was ready enough for its debut.
Needless to say, the filming went very well, the production crew for Chasing Classic Cars is very professional and very courteous, you can tell they know what they are doing and know how to make an interesting show. And of course, Wayne Carini is always a great fellow to work with, genuinely interested in what we had done with the car, extremely knowledgeable of all things automotive, and a very down to earth, real car guy.
The film crew arrived early, to check out the locations and the shop for how they wanted to film things. They immediately began filming the shop and the car in lots of detail. Left side, right side, car on the lift, car on the ground, hood open, hood closed, and then the camera man sat in the car and filmed the dash and interior! Then they scouted locations near our shop for quiet roads, scenic shots, etc. Wayne arrived about an hour after the film crew, so they were pretty much done with the filming of the details and ready to shoot the driving sequences.  The camera man had chosen his locations in the area, so Wayne and I just had to follow his directions and drive as he instructed. Lots of drive, stop, wait, go, stop, wait, etc. as they moved the camera for different shots. You pretty much do it all without the Go Pro cameras, then do it all over again with the Go Pros on the car so they can cut back and forth from the car to the driver in the final product. Luckily, we had great weather, the TC performed flawlessly even with all the stop and go driving in 88 degree heat, and we hope the crew got all the shots they needed. We were told all this work would amount to about 4 – 6 minutes of the show! Look for this episode on the Motor Trend channel in late October.
A great day for us, we are forever indebted to Wayne Carini for allowing Abingdon Spares to be a part of his show. It is a great opportunity for our business and we hope we have done justice to the MG TC, the sports car America loved first! Here are some photos of the day.
After its moment of fame, we are still working on the car, still lots and lots of details to change and correct. But is a car ever really finished?!
On the road photos courtesy of Crashing Wave Entertainment